A "Must-Read Romance For 2015"–Serena Chase, USA Today
One dying secret. One missing truth. And a whole lot of trouble…
Sadie Carson is an expert on unfinished business. Five years after the derailment of her dreams she's just barely existing, using her job as a hospice nurse to give others the one thing she can't seem to find—closure. So when her elderly neighbor Charlie, a brilliant conspiracy nut known for harassing the FBI, is murdered, Sadie suspects Charlie might've been onto something and intends to make sure someone solves the mystery of her friend's death, even if it's her.
The feisty little blonde may have found the victim's body, but FBI Special Agent Archer Hayes has no intention of letting some nosy civilian interfere with his investigation. The guilt he feels is bad enough. The last thing Archer needs is another distraction to haunt him. Especially one as beautiful and beguiling as the girl next door.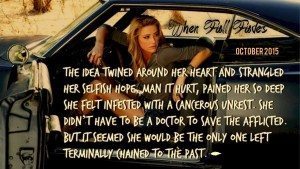 But throw in a mountain of hoarded evidence and suspiciously coded journals and the case takes a puzzling turn toward a decades old conspiracy cover-up from World War II—one only the victim's closest confidant can help untangle. Sadie and Archer reluctantly join forces to decode the riddle of secrets Charlie carried to his grave. Or did he? Someone is after a dangerous truth. But to uncover it or bury it is a question that leads the unlikely pair on a quest for redemption that lands Sadie in the crossfire of a desperate killer. And when the dangers of the past and present collide Archer must fight to save the life of the woman he's falling for . . . only to discover he might be the one in need of saving.
---
Character Files:
Name: Archer Hayes
Age: 33
Marital Status: Single
Occupation: FBI Special Agent
Notes: Former Army Ranger sniper. Signs of PTSD. Workaholic. Loner. Regimented.
Favorites: Black coffee. Baseball. Work. Plain black suits. Classic rock. Pizza. Target practice.
Name: Sadie Carson
Age: 28
Marital Status: Single
Occupation: Hospice Home Care Nurse
Notes: Med-school drop-out. Tom-boy. Fiercely loyal. Feisty and direct. Guarded. An old soul.
Favorites: Coffee. Anything chocolate. Classic movies. Band T-shirts. Chuck Taylors. Frank Sinatra. Comfort food. Running.
---
What Others Are Saying:
"Here's the best news: this novel is the first in a series. Ms. Simpson swung for the fences with this one, and her ball disappeared in the sun."–Anthony Flacco, New York Times bestselling author of The Last Nightingale. Read Anthony's entire review here.
"Brooding, intense hero? Check.
Feisty, intelligent heroine? Check.
Nail-biting suspense and breath-taking romantic tension? Double-check.
Amy Leigh Simpson's debut, When Fall Fades, is a unique and intense novel about overcoming old-wounds and broken dreams with the healing power of love. Set within the framework of a compelling, and sometimes chilling, mystery, Archer and Sadie create an unlikely pair to solve a murder that, not only puts them in jeopardy of losing their lives, but also their well-protected hearts.
Simpson's descriptions, emotionally-riveting details, and sometimes evocative scenes keep the reader breathless from the first page to the last. A wonderful debut!" – Pepper D. Basham, author of The Thorn Bearer and A Twist of Faith
* * *
"When Fall Fades has a unique blend of sharp-witted characters, snappy dialogue, and a romance that practically sizzles off the page. With a killer on the loose and a mystery in need of solving, this story will be devoured from beginning to end." – Nicole Deese, author of the Letting Go series and the Love in Lenox series
* * *
"It's hard to believe When Fall Fades is a debut novel. With smart dialogue, plenty of romantic tension, and well-crafted sentences that pull you right into the scene, Simpson is brilliant with a pen. You'll feel like you're traveling through the story with Archer and Sadie, and you'll be left wanting more when the ride comes to an end." – Amy Matayo, award-winning author of Sway and The Wedding Game
---
From the Book:
"Sadie, the team was at the office when I left ten minutes ago. They're not at Charlie's anymore." Alarm. It was all over his voice.
Instant dread balled up and twisted in her stomach. A collision of crippling emotions hit her in one paralyzing blow. Panic. Terror. Numbness. A sinking sensation like she was getting dragged to the bottom of an icy lake froze the breath in her lungs.
She was alone in Charlie's home with an intruder, or worse, Charlie's killer. The basement door swung open just as she ducked behind several clustered stacks of newspapers.
"Sadie? Sadie, are you ok? What's going on?"
Sadie winced as she squeezed the receiver to mute out the sound booming through the thin silence. Fear strangled the words she forced out in a barely audible whisper. "Someone's here."
"Sadie, I need to call it in. I'm still ten minutes away. Stay put." Archer ended the call.
Muttered curses and savage searching sounds came from what sounded like twenty feet away. Footsteps approached her poor excuse for a hiding spot. Uncontrollable tremors gripped every flimsy muscle fiber in her arsenal, shaking her so hard she almost dropped the phone.
The hissing creak of the wood floors played like a haunted symphony. She dared not close her eyes for fear of what she might encounter when she opened them.
Unable to move she stared ahead, a stream of muted prayers trapped within each strained, stuttering breath.
Where was Agent Hayes? It seemed like an eternity since he'd hung up the phone. Her mind screamed for a solution, an escape, an equation, and came up empty. Why do you not have your gun?
The steps drew closer.
Her constricting throat squeezed so tight she thought she might faint. Struggling to cling to consciousness, her heart seemed to explode as her phone suddenly blared to life. With quaking hands she silenced the call from her mom, listening for the death march to continue.
Nothing.
An impossibly long moment passed until she heard the faintest strain of the tired timbers underfoot.
Her scream crumbled to dust in her throat.
---
From the Author:
Inspiration comes from anywhere and everywhere. The heroine in this story works as a hospice home care nurse after abandoning her dream of becoming a doctor. In other words, she was coasting. This is not something I'm familiar with. I've always been rather goal driven, even in the in-between times of my life. In one such in-between time in college while toying with the idea of accepting a highly-coveted slot in a Doctorate of Physical Therapy program, I did a part-time stint as a home care aid, much like Sadie. The months I spent caring for elderly patients was at times delightful and energizing, other times exhausting and uncomfortable, but at each phase and with each patient, it was rewarding to be the one to listen and care when people can be at the peak of loneliness and despair. It made me realize that everyone has a story they want to tell, if someone would take the time to listen. Thus, the seeds for Sadie and Charlie fell on a fertile imagination long before becoming a novelist was even the faintest inking in my mind. It took years for those ideas to take root and find their way to the surface, but it just goes to show you that our experiences, whether deliberate or just those fillers in the in-between, help shape who we are. And I couldn't be more grateful that my time as a caretaker and confidant could inspire a story I'm proud to tell.
* * *
WHEN FALL FADES will be available this Fall! Curl up with the perfect Autumn read by Amy Leigh Simpson