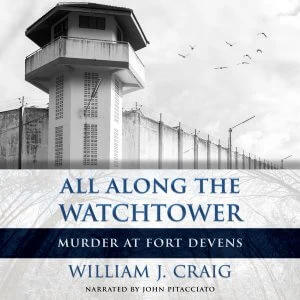 We are thrilled to announce that ALL ALONG THE WATCHTOWER: Murder at Fort Devens by William J. Craig is now available in audiobook format, narrated by the incredibly talented John Pitacciato. With a rich background in voice acting and a passion for storytelling, John brings this gripping tale to life. What makes this narration even more special? John Pitacciato is a proud veteran of the US Army and was stationed at Ft. Devens, adding a unique connection to the story.
ALL ALONG THE WATCHTOWER is a gripping and harrowing true story of Bill Tyree, a Green Beret whose journey from liberator to oppressed takes an unimaginable turn in January 1979 when his wife is brutally murdered. He finds himself pitted against both the United States Army and the Massachusetts judicial system. This compelling narrative exposes the vulnerabilities in our legal system through court records, first-hand accounts, and mysterious government documents that continue to surface four decades after the tragic event. Tyree's case symbolizes the government's power and the lengths it will go to protect its secrets. It raises unsettling questions about wrongful convictions, covert operations, and the persistence of conspiracy theories, making it a story that refuses to fade away, no matter how much the government wishes it would.
Bill Tyree's fight for exoneration and justice has endured for over 40 years, making him a once-admired Green Beret now trapped in a life sentence as a convicted felon.
About the Author
WILLIAM J. CRAIG served in both the U.S. Army and the U.S. Air Force. His journey led him to Gordon College in Massachusetts, where he earned a B.A. in history. Today, he resides in Kansas City, Missouri, with his family.
Meet the Narrator
JOHN PITACCIATO is a voice actor with many credits in commercials, video games, documentary narrations, audiobooks, and other voice-related work, as well as many television, movie, and theater credits. He has studied voiceover at the Voice Actors Studio and the SAG Foundation. He is a member of the Screen Actors Guild and Actors Equity Association. Education includes University of Pennsylvania, Bachelor of Science, Pittsburgh Playhouse School of Theater, American Conservatory Theater, British American Drama Academy at Oxford University UK, and HB Studios New York. He is a three-time winner of the Hawaii State Theater Council award for Best Actor in plays and musicals. John is a proud veteran of the US Army and was stationed at Ft. Devens. He lives in Las Vegas, Nevada. Follow him on Facebook and Linkedin.