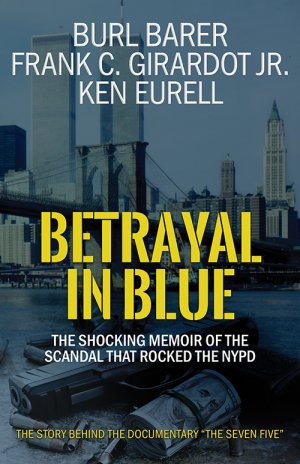 They Had No Fear Of The Cops Because They Were The Cops
NYPD officers Mike Dowd and Kenny Eurell knew there were two ways to get rich quick in Brooklyn's Lower East Side. You either became drug dealers or you robbed drug dealers. They decided to do both.
"I promised my wife that we would make a lot of money and that she had nothing to worry about. I LIED!"
Dowd and Eurell ran the most powerful gang in New York's dangerous 75th Precinct, the crack cocaine capital of 1980s America. These "Cocaine Cops" formed a lucrative alliance with Adam Diaz, the kingpin of an ever-expanding Dominican drug cartel. Soon, Mike and Ken were buying fancy cars no cop could afford and treating their wives to levels of luxury not associated with a patrol officer's salary.
They Were Daring, Dangerous, and Untouchable Until …
Then, "the biggest police scandal in New York history" exploded into the headlines with the arrest of Mike, Ken, and their fellow crooked cops. Released on bail, Mike offered Ken a long shot at escape to Central America—a bizarre plan involving robbery, kidnapping, and murder—forcing Ken to choose between two forms of betrayal.
"When you lie, you steal the truth. Once you have stolen the truth, you can justify stealing anything from anybody."
Adapted from Ken Eurell's shocking personal memoir, plus hundreds of hours of exclusive interviews with the major players, including former international drug lord Adam Diaz, and Dori Eurell, revealing the truth behind what you won't see in the hit documentary THE SEVEN FIVE. Edgar Award winner Burl Barer once again teams with award-winning journalist Frank C. Girardot, Jr., and Eurell to bring you an astonishing story of greed and betrayal.
FROM THE BOOK
An unusual call of shots fired in a residential neighborhood, not in their sector, offered an opportunity for New York Police Officer Ken Eurell and his partner Michael Dowd to grab money and drugs.

As we approach the front door we can see there is a DOA shot in the head. He's in a pool of blood sort of blocking the doorway. We jump over the body and enter. There are voices coming from upstairs. We don't see anyone.

"Help us! Please help us!"

All that's running through my head is the question: "Are these perps or victims?"

"Police! Police! Don't move!"

We quickly scan and clear the ground floor.

"We're up here. Help us!"

The cops experienced an adrenaline rush that flowed from the absolute uncertainty of the situation.

Other units are starting to arrive on the scene, and the guys from Anti-Crime attempt to take over. Dowd and I go on a search of the house knowing the victim was most surely killed for drugs.

In the front upstairs room we find an open safe. The safe is empty from what I see, but Dowd was alone in the room for a minute. That's all it takes for him to shove money down his pants. With the house filling up with other cops I watch the door while Dowd re-ransacks the rest of the bedroom with me there. We find an ounce or two of herion a 9mm, and a MAC 10. Dowd puts the heroin in a paper lunch bag.

Just then one of the Anti-Crime cops tries to enter the space.

"We got this room," I tell him.

The good cop just backed out as I closed the door in his face. He clearly knew what we were doing, so we left him the guns and he never said anything. The cop who took the guns later retired as a hero detective.

Eventually a sergeant arrived.

"What's going on here?" he asked.

Dowd didn't have enough time to stuff the paper bag of heroin down his pants so he put it down on top of a garbage can at the top of the stairwell. Ken told his boss they were leaving the scene to get back to work. Their sergeant said that was a good plan as there were several calls for service that needed to be cleared.

The men then pulled a slight-of-hand, grabbing the heroin through a banister behind the boss's back.

"You're fucked up; you took that right in front of the boss!" Ken said as they left.

"That idiot doesn't know shit," Dowd replied.

He was happy you told him we're picking up a job."

Instead of going to work, Mike and Ken headed to their makeshift headquarters at Auto Sound City. At the shop, which was owned by a man named Baron Perez, Ken and Mike hooked up with a dope dealer nicknamed "Gordo." He earned the nickname for obvious reasons–mainly his weight. Gordo cut up the heroin, packaged it, and put in on the street. Ken and Mike got a small percentage, but it wasn't anywhere what they were making in the cocaine trade.
FROM KEN EURELL
I actually started writing my memoir in 1988 before my retirement. I was injured on the job and laid up with free time.

When I was sent back to work, it was off the streets and limited duty at the Applicant processing division.

Everything I had just been through in the Seven Five precinct was so surreal it was playing like a Hollywood movie over and over in my head.

No computer, not even a typewriter, just my thoughts pouring out onto scratch paper. It was extremely cathartic for me. Dates, places, and events in a simple chronological order.

Then, I retired in November of 1989 and put the memoir aside. I had a great collection of extreme police activity from the cocaine-fueled 80s in Brooklyn North.

This was nowhere near complete but very self incriminating! I figured being retired I now had all the time in the world to complete my project.

Raising a family during the day and not ready to give up the lure of easy money from the cocaine trade at night let dust collect on what now is Betrayal in Blue.

Fast forward three years to May, 6, 1992 my house is raided by Suffolk county narcotics.

While tearing through my house searching for drugs and paraphernalia (there was none) the officers managed to confiscate 3 cars and cash.

Fortunately for me in their haste they just threw my memoir, which basically amounted to a confession up in the air landing scattered all over my bedroom floor, whew!

After all the court cases & my probation was completed sometime in 1996 I went to work on completing the memoir.

I taught myself HTML and created a basic website entitled Behind the BLUE WALL...Kenneth Eurell life of a New York police officer.

I put a short version of the completed memoir online. I made half hearted attempts to find a publisher but mostly I was content having a historical record of the insane life I led and what I put my family through.

There it sat until August 9 2012 when I was contacted by director Tiller Russell who came across it while doing research for a police corruption documentary.

With the completion of the documentary, The Seven Five in 2014 I had a renewed interest in having my memoir published.

This time I decided to write true crime authors to partner up with. Thanks to Tampa Bay Times journalist Paul Guzzo I found my way to co-authors Burl Barer & Frank Girardot.

Together we have the hard hitting true crime novel BETRAYAL IN BLUE: The Shocking Memoir of the Scandal That Rocked The NYPD.