New eBook Collection Out Now!
This three-in-one volume features Edgar Award-winning author Burl Barer's works: MAN OVERBOARD, BETRAYAL IN BLUE, and A TASTE FOR MURDER.

Barer, a media legend with a decades-spanning career, is a one-of-a-kind, must-read true crime master.
MAN OVERBOARD: The Counterfeit Resurrection of Phil Champagne details a mind-boggling blend of fraud, deception, and fine prime rib. Barer's storytelling prowess shines as he explores a bizarre case that will have you questioning reality itself.
Crisp as a freshly printed C-note. Exceptionally clever and vastly entertaining!"
—LEE GOLDBERG, #1 New York Times Bestselling Author & TV Producer
In BETRAYAL IN BLUE: The Shocking Memoir of the Scandal That Rocked the NYPD, law enforcement blurs with lawbreaking and an electrifying saga unfolds. Barer and award-winning journalist Frank C. Girardot, Jr. dive into the accounts of officers who ventured into the shadows, shaking the force's foundations, inspired by former officer Ken Eurell's firsthand experiences and exclusive interviews.
Paints a "living image of NYC and the Brooklyn area."
—★★★★★ GISELA DIXON, Readers Favorite book reviewer
A TASTE FOR MURDER, another collaboration between Barer and Frank C. Girardot, Jr. creates a world of mystery and intrigue when a counselor's sudden death unravels a web of secrets, conspiracies, and sinister plots that will keep you on the edge of your seat.
A doozy of a murder." —SUZY SPENCER, New York Times bestselling author of BREAKING POINT
A smart whodunnit tale." —CATHY SCOTT, Los Angeles Times and New York Times bestselling author of Murder of a MAFIA DAUGHTER and THE KILLING OF TUPAC SHAKUR
Want More?
Get the MURDERERS' ROW Collections from WildBlue Press!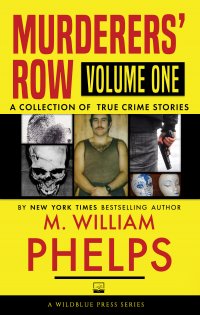 From an attempt to blame a murder on a horse to chilling letters from the Son of Sam, these shocking stories are gathered alongside updates. Discover a range of narratives, including a binge-watcher's murderous scheme and a restaurant owner's unsettling secrets. Bonus content unveils the author's insights into his series Dark Minds, shedding light on serial-killer cases that linger. A conversation with forensic scientist Dr. Henry Lee adds depth to this enthralling journey into crime's chilling realities.
BOGEYMAN by Steve Jackson | For years, he targeted vulnerable girls from low-income areas. Abductions, rape, and murder were his chilling routine, preying on "throwaway kids." Neglected by society, he became a parent's worst fear. Texas law enforcement waged a decades-long battle to bring him to justice.
MURDER IN THE FAMILY by Burl Barer | In 1987, Anchorage police encountered a gruesome sight: Nancy Newman and her daughters were murdered in their downtown apartment. A probing inquiry led to a prime suspect—Kirby Anthoney, a distressed drifter who sought refuge with Nancy's husband. Unbeknownst to him, the nephew harbored a dark sociopathic nature.
TARGETED by M. William Phelps | When her vanished boyfriend is discovered dead, encased in cement within a watering trough in a cattle field, a Georgia sheriff's deputy is apprehended for his murder. Yet, as an investigative journalist delves deeper, uncertainties arise about her culpability.
WRECKING CREW by John Ferak | While working for USA Today's Investigative Team, John Ferak wrote dozens of articles on Steven Avery, who was charged with the murder of Teresa Halbach. In Wrecking Crew, Ferak lays out high-profile lawyer Kathleen Zellner's post-conviction strategy to free Avery.
MY BROTHER'S KEEPER by Chris Russon Blackwood | An International Book Awards Finalist! "A thirty-year search for the truth . . . a story of persistence, determination, and deep brotherly love." —Denise Wallace, author of DADDY'S LITTLE SECRET
SUMMARY EXECUTION by Michael Withey | On June 1, 1981, two young activists, Silme Domingo and Gene Viernes, were murdered in Seattle in what was made to appear like a gang slaying. But the victims' families and friends suspected they were considered a threat to Philippines dictator Ferdinand Marcos and his regime's relationship with the United States.