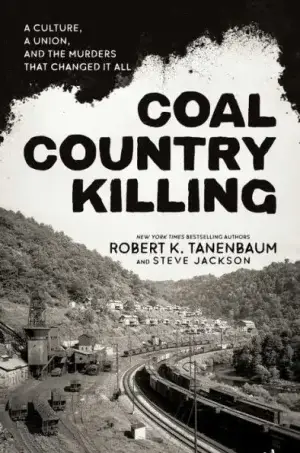 A triumphant, uplifting true justice story led by jury trial expert, Richard A. Sprague—the indomitable, nationally renowned prosecutor who engaged in the most intense manhunt investigation in police history.
Coal Country Killing: A Culture, A Union, And The Murders That Changed It All, revolves around the cold-blooded 1969 assassination of United Mineworkers of America "reform candidate" Jock Yablonski, and murder of his wife and daughter in their Pennsylvania farmhouse. But driving the story are the extraordinary efforts of a tenacious special prosecutor and his "army" of investigators to bring the gunmen, the union boss who ordered the murders, and his henchmen who saw them carried out, to justice.
Initially, three bumbling small-time criminals, dubbed "The Hillbilly Hitmen," were arrested and charged. But they were the tip of the iceberg as the murders were directed by then-UMWA President "Tough Tony" Boyle as revenge for Yablonski running against him in the bitterly contested 1968 union election and to prevent his corruption from being exposed.
Up against the tight-lipped culture of Appalachia coal country, legendary Philadelphia homicide prosecutor Richard A. Sprague, and his investigators, spent nearly nine years doggedly working their way up the ladder of those responsible to the final showdown with Boyle.
Written by New York Times bestselling authors—former New York County Assistant District Attorney Robert K. Tanenbaum, a lifelong friend of Sprague's, and Steve Jackson—Coal Country Killing is a tour de force for those who love justice.
Praise for COAL COUNTRY KILLING
With research and trial transcripts, the authors masterfully narrate this true account that reads like a novel that cannot be put down. A must for all libraries." —LIBRARY JOURNAL
This is an illuminating nonfiction thriller with the inherent suspense of a novel." —BOOKLIST
The definitive behind-the-scenes account of a watershed moment when the dark side of politics and labor was revealed in all its grim colors. Robert Tanenbaum and Steve Jackson capture the bleakness of Appalachia and the state of American unrest as they retell a compulsively readable crime story." —RON FRANSCELL, New York Times bestselling author of The Darkest Night
A fascinating read for trial lovers and true crime fans... [an] unforgettable seven-year case... it's one heck of a ride. —SUE RUSSELL, award-winning journalist and author of Lethal Intent
Absorbing, gripping, original true crime at its absolute finest... Thoroughly researched, immersive and detailed look at Appalachia culture... both authors display a unique talent and insider's take on the important aspects of what justice truly is... at the same time, keeping us turning pages. Their empathy, journalistic fortitude and humanity shine here… telling the story of vicious multiple murders in an authentic, sensitive, and truly terrifying way, making justice for the victims a focal point of the book." —M. WILLIAM PHELPS, New York Times bestselling author and podcast host of the #1 Apple podcast PAPER GHOSTS
The definitive true crime expose of the brutal murder of an entire family ordered by corrupt and despotic Tony Boyle, President of the United Mine Workers of America. Impeccable research and compelling narrative style make this an instant true crime classic." —BURL BARER, NYT Best Selling author of MURDER IN THE FAMILY.
[A]n impressive achievement. The narrative is compelling. The research, formidable... This book is highly recommended." —RON CHEPESIUK, host of Crime Beat radio show and bestselling author of BAD HENRY
About the Authors
ROBERT K. TANENBAUM is a New York Times bestselling author who has written thirty-two books, including Echoes of My Soul, about a case cited by Supreme Court Justice Earl Warren in the famous Miranda decision. Tanenbaum is one of the most successful prosecuting attorneys, having never lost a felony trial. He was Assistant District Attorney in New York County, where he ran the Homicide Bureau, served as Chief of the Criminal Courts, and was in charge of the DA's legal staff training program. He also served as Deputy Chief counsel for the Congressional Committee investigation into the assassinations of President John F. Kennedy and the Rev. Dr. Martin Luther King, Jr. Born in Brooklyn, New York, Tanenbaum attended the University of California at Berkeley on a basketball scholarship, where he earned a B.A. He received his law degree from Boalt Hall School of Law at the University of California, Berkeley.
---
New York Times bestselling author and award-winning journalist STEVE JACKSON has written fourteen non-fiction books in true crime, history and biography genres; he has also written fourteen crime fiction thrillers for the Times bestselling "Butch Karp Series" in collaboration with former New York assistant district attorney Robert K. Tanenbaum.
As of January 2023, he is working on the non-fiction sequel to his bestselling book, No Stone Unturned, tentatively titled Grave Secrets. His first non-fiction book, Monster, a true crime, was published in October 1998 and within two weeks became a New York Times bestseller. Several of his other non-fiction and thriller books have also made bestseller lists. In 2003, his World War II dramatic narrative, Lucky Lady, received The Colorado Book Award, best biography/history, from the Colorado Center for the Book; Lucky Lady was also the runner-up that year for the Admiral Samuel Morrison Naval History Award.
Steve is also the co-owner of indie publisher WildBlue Press (wildbluepress.com) he began in 2014 with partner Michael Cordova. He graduated in 1979 from Colorado State University with a BA in Journalism. A newspaper journalist for twenty-five years, he worked in locales as varied as Montana, Hawaii, Guam, Micronesia, Indonesia, Indiana, Washington D.C., Florida, Oregon and Colorado. During his career with newspapers, he received numerous national and regional awards for feature writing and investigative reporting.