'And all of it is about him [Happy Face Killer]. His insecurities. His fantasies. His anger. His narcissism. His inadequacy. His incompetence. His failures as a man.'
Over the course of 12 years, I received over nine thousand pages of letters from a violent psychopath. Keith Hunter Jesperson became known as the "Happy Face Killer" after doodling (with no intention of it becoming his nickname) a smiley face on a letter he wrote to a newspaper. Throughout those dozen years, I also recorded close to 100 hours of phone calls between us, visited him many times inside Oregon State Prison, and recorded a dozen-plus Skype conversions with him. I wrote a nonfiction book about my experience: Dangerous Ground: My 'Friendship' with a Serial Killer.
What I learned from the research, of course, cannot be explained in a blog post. Yet I'd like to focus on one specific area: How a serial killer's mind works, which was clear to me as I came to understand the motivating factors behind Jesperson's eight brutal murders.
Today, a ravenous culture consumes true-crime television, books, and podcasts (all of which I contribute to)—including my current investigative narrative franchise Paper Ghosts, and my weekly podcast, Crossing the Line with M. William Phelps—in record numbers. Many true crime podcasts focus on serial killers. What I'd like to say is that there's a terrible misconception, generated by documentaries mostly, of who serial killers truly are and what is going on inside their heads. Those serial killers we see on television routinely—Bundy, Dahmer, Golden State Killer, Gacey—are anomalies within the totality of serious serial killer research. There is no typical profile of a serial killer. They are all different. Wetting the bed, torturing animals, and starting fires as children, which we often hear about, is obviously accurate in some cases, but to pin those behaviors, along with others we commonly hear, on the lapels of most serial killers is disingenuous. If I took a few pages and explained what the average serial killer is actually like, you'd understand why you don't see them featured in documentaries. Like those I mentioned, they are insignificant human beings, contribute nothing to society, and, mostly, boring loners who derive fun and pleasure from hurting people in myriad ways.
Jesperson is yet another scumbag killer from a long list who believes he is some sort of "special" super-killer who should be worshipped on television and given the same treatment as the others I mentioned. None of them, I should say, deserve our attention, and certainly not the numerous television, podcast, and book treatments they have garnered.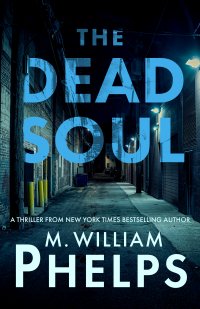 Which brings me to The Dead Soul, a novel Wild Blue Press is graciously re-issuing for me after a new edit and update—which I should note is a book of fiction. I made it all up.
Although I created this book from the recesses of my imagination and the characters are fictional, I stole some degree of information from my journalism and nonfiction work of seven books about serial killers. The fictional serial killer I created is dubbed "the Optimist" by the media coverage he receives in The Dead Soul. And I want to share a specific excerpt from the novel before discussing it:
I wrote this scene for a few reasons. One of which is, clearly, to drive the plot of the book and explain a bit of the psychopathy behind my character. But I also wanted to give the reader some insight into how, for many serial killers, the act of killing, the act of stalking, the act of obsession, or just about any other drive to murder a human being within them, is part of a fantasy-driven mindset they spend a lot of time frolicking in. This scene above is embellished, clearly, for the sake of the novel. But the point is, for the real serial killer, fantasy drives the impulse to stalk, prey, and kill, which is generally rooted in their childhood/teen years. And not necessarily from a traumatic experience. That's a myth, too: That all serial killers were severely abused and grew up in violent homes.
Keith Jesperson hates women. It's a fundamental truth behind his violent tendencies, and one of the primary motivating impulses underscoring his need to kill. His "on" switch. When a female made Jesperson angry, whatever she had done—normal behaviors, I might add; I am not blaming the victim in any way whatsoever—he viewed as wrong, or against his skewed moral compass, turned into volcanic rage inside him. He could take the simplest reply from a female, the simplest request he didn't like, and turn it into a reason to kill. He always blamed the victim. And all of it was about him. His insecurities. His fantasies. His anger. His narcissism. His inadequacy. His incompetence. His failures as a man.
Let me give you an example of the obsessiveness and need to control Jesperson displayed for me, without even realizing it. I once asked him for a timeline of his life. A simple family history. I specified, "One or two bullet-pointed pages with dates."
He sent me three handwritten composition books, 200 pages each, detailing the history of the Jesperson family, beginning in 1850 in Sweden. Within that 600 pages of text, he bangs on for dozens and dozens of pages about his daughter, Melissa Moore, who has parlayed her relation to him into a true-crime career. He trashes her. Totally calls her out on numerous aspects of her life he disagrees with. He calls her a pathetic, pathological liar, who is using him to line her pockets and gain celebrity. He talks about his sisters and aunts and other females in his life.
But he mentions his mother maybe three times, only in passing.
When I asked him why he avoided his mother—remember, he hates females—and obsessed over the males in is life, his father more than any of them, he responded, "When my mother died, I recall being at the wake and wanting to laugh. I thought it was all very funny. I had no feelings whatsoever for her after she died. It didn't matter to me. I felt nothing."
He has another obsession with pictures—especially of women who send him letters and racy photographs of themselves, many of which he felt the need to forward to me.
When we drill down into the psyche of serial killers, we find no empathy, no capacity for love, no sympathy for their fellows or what's going on in the world, and especially no sense of morality or reality. They are devoid of feeling what most people feel. Which allows them to victimize without remorse, and enjoy it. Yet I cannot stress enough that they are not typical in any way—they are, in fact, atypical. One is not like the other. So, when we label a Dahmer or Bundy, or even this Long Island Serial Killer scumbag, as some sort super killer, or turn them into a nicknamed celebrity, we are not only re-victimizing their victims, we are giving them what they desire almost more than anything else: stimulation and recognition. We are rewarding them for committing multiple murders.
My novel The Dead Soul is, in a way, a commentary on all of the above and, in another, a grim reflection on the monsters in our midst (however rare they are). But more than anything else, the book is a thriller to be read on the beach, in front of the fireplace in a rocker, in bed before falling asleep, or any other place the reader chooses.
In the end, it is a story I made up.