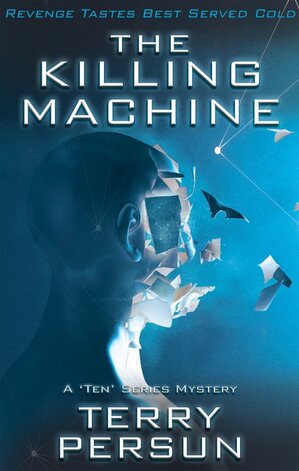 The next installment in award-winning author Terry Persun's The 'Ten' Mystery Series!
THE KILLING MACHINE, follows the cyber detective and scientist known as Ten. He is assigned to work on a top-secret project for the government that is abruptly and mysteriously terminated. In a tragic twist of events, Ten learns that the agency he was working for is the very same government faction that ordered his wife to be killed, and is now hunting him down as well. It comes to light that six other brilliant scientists are also in the crosshairs.
On a life-or-death mission to uncover the government's deadly motives and seek revenge for the brutal murder of his beloved wife, Ten discovers that the top-secret application that he was working on has the potential to kill millions of people. THE KILLING MACHINE is the story of Ten's fight to stop this deadly project and exact revenge on those who destroyed his life.
From The Book:
Russell glanced around the room. He got off his stool and hugged Ten. "I don't like this place being so busy."
"I thought it was your birthday. I didn't even know—"
"It's not my birthday." He scanned the room again.
"What's going on?"
"There's not much time to explain everything. But it's about your work, your project."
Tempest lowered his eyes. "I was laid off today."
"No, Ten, you finished the project. That's why they let you go. That's all that was supposed to happen, too. But that decision changed a few hours later." He turned his head away, looked around nervously, and brought his attention back to Ten. "I'm part of a team, a group called ISTI: International Security for Technological Innovations." He shook his head as though it didn't matter. I've been with them for nearly twenty years, been assigned to you for the last seven."
"Assigned to me?"
"A bodyguard, so to speak. Protection. But I have to tell you, I didn't buy into this. Not killing our own." He shook his head.
Ten scrunched up his face. "What are you talking about?"
"It's one thing to pull a project, another thing to kill everyone involved. Trust me. I'm not alone on this. Other bodyguards feel the same about their assignments."
"Bodyguard? Project? What's happening? You still haven't told me."
Russell placed a hand on Ten's shoulder. "Divide and conquer. Six scientists, six pieces of one puzzle. I don't know what the project is, none of us do. We can only guess. But I know it's over. They want me to take you out. So, I'm telling you, disappear. You don't have much time."
Ten's head floated full of information, pieces of information. He didn't know what to do, what to ask. "I'm not following this. Are you for real? All this? I mean, I've gone along this far, but…"
Russell's expression shifted, more stern, more believable.
"Okay, how much time do I have?" It was the only thing Ten could think to ask.
"Don't know. Look, they don't know I'm refusing. They think I'm still looking for you, after you disappeared from work."
"I was escorted out. I went to the gym."
Russell smiled. "I didn't think of that." A lie he must have told his superiors. "Look, I've got to check in soon. I'll be in touch when I can. I'll do everything to steer them clear of you and Amy."
"Amy?"
"Get home and get out." He patted Ten's shoulder. "I'll hold them off as long as I can. If they knew I was talking with you like this…" He glanced around the room again. From his pocket, he pulled a folded sheet of paper. "They're after everyone on the project. I know they are. And anyone else who might know something." His mouth pulled into a tight grimace. I'm sure I'll be on the kill list eventually."