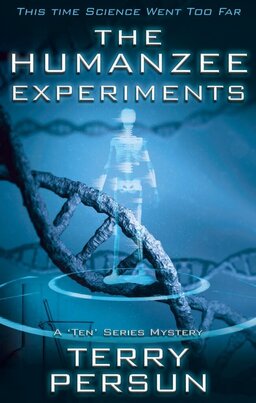 Ten must track down and stop rogue scientists behind the development of criminal technology in THE HUMANZEEE EXPERIMENTS, the next installment of The 'Ten' Mystery Series!
The International Security for Technological Innovations, a federal agency tasked with finding unsanctioned and unethical technologies that pose a threat to global safety, hires Ten to track down the scientists behind the creation and weaponization of chimpanzee human hybrids. His friend Maria, upon learning of the human trafficking involved, sets out to help Ten put a stop to the horrible hybrid production – and save the lives of innocent victims from these vile experiments.
From The Book:
Abdi had Maria's assailant, the one still alive, shot from a passing car so he wouldn't talk. Now the man who had done that job for him lay on the floor with a bullet in his skull. Abdi set the pistol on his desk, where it remained a threat.
Mon shifted in his chair. "You will exhaust your help if this continues."
"I don't need you telling me that you told me so." He spit on the floor. "I can buy more men, more women, as many as I need." He walked around his desk and toward Mon, but didn't confront him aggressively.
Mom raised his eyes to meet Abdi's gaze. He repositioned himself more comfortably. "You don't think the American government will come for you now? Your actions indicate that you're scared. That you're willing to kill your own people. I have told you before that your methods may not have the outcomes you would like."
"For my family. For our families!" Abdi held up a clenched fist. "We're almost there. We do this for more than ourselves and that is why my actions are justified. One more shipment of pregnant women. A total of one hundred humanzees. That's all that was promised. By the time the resistance waits for these beasts to get to the proper age, our families will be safe, we will be old men—and untouchable."
Mon appeared to ignore Abdi's rantings. "We might want to move from here. Anyone who watches the clinic may follow one of the men to the farm and…" Mon let the sentence go.
Abdi didn't have to hear any more. He felt his anger grab his heart and squeeze. He owned the largest biochemical laboratory in Iran and could never do what Clarkson and Shirazi had done. And they refused to train Abdi's doctors. They kept their secret, kept their research between them. They knew that they held all the cards.