Greetings,
My name is Robert Dodge and I would like to describe the journey that brought me to writing my most recent book, Tempest-Tost. This will be my seventh book and it is a book about refugees, what they endured that caused them to flee their countries and how they have been received since arriving in America.
I might seem like an unlikely author for a book on this controversial topic, having been born and raised in Fargo, North Dakota.
North Dakota featured in a book my book about the Sioux on the Standing Rock Reservation.
I was five-time state champion in tennis, captain of college tennis team at North Dakota State University, where I was a history major and was awarded one of 22 National Collegiate Athletic Association (NCAA) Post-Graduate Scholarships for combined academic and athletic performance.
At North Dakota State, I had the good fortune to have Catherine Cater for a teacher and years later it was my privilege to write her biography.
After beginning law school, college deferments were ended and I student taught then spent time in the Army. I began teaching middle school while I waited to find a "real job" and married Jane, whom I had dated since high school. She was also a teacher. I ended up being a teacher for 37 years, including 25years of Advance Placement History.
We traveled the world in summers, visiting Europe, Tahiti, taking a safari in Africa, cruising up the Amazon, camping in North Africa. I developed lasting health problems in 1977, when, following a bout of encephalitis, I was diagnosed as having epilepsy. The overseas world fascinated us and in 1979 we left the U.S. and became expats, beginning with four years in London. In 1983, we moved to Singapore where we remained for 31 years until returning to the U.S. in 2014. Being an expat and teacher at international schools gave me a different perspective on the diversity of the population. That was heightened when we adopted our daughter, Anne, as a newborn from Taiwan.
While teaching at the Singapore American School I went on sabbatical and earned an MPA from the Kennedy School of Government at Harvard. My mentor there was Thomas Schelling, who would win the Nobel Prize in Economics for his work in game theory. I wrote his biography, which was co-published in the U.S. and Asia.
Comments and reviews on this book included:
"Thomas Schelling's ideas and approaches illuminate and clarify very many public policy issues. This book will popularize Schelling's ideas to a wider audience, and so help to raise he quality of public debate and policy making." —Lee Hsien Loong, Prime Minister of Singapore
"Tom Schelling's achievements and influence have warranted attention for nearly half a century, and this book bringing his story to the public is long overdue." —Robert McNamara, U.S. Secretary of Defense, 1961-1968
"In this wonderfully written biography by Robert Dodge, Schelling comes to life in one fascinating story after another. I recommend it highly!" —William Ury, co-author of Getting to Yes and author of The Third Side
"What do nuclear strategy, 'the chicken dilemma', and Singapore's public housing racial quotas and its road pricing system, have in common?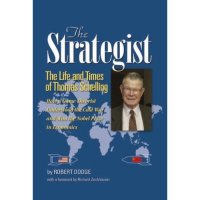 As it so happens, plenty. For one thing, a remarkable man, Professor Thomas Schelling of Harvard University, a Nobel laureate in economics and one of the principal figures in 'Game Theory', had something to say about all of them.
Take the 'chicken dilemma'. Mr Robert Dodge, an American residing in Singapore, tells this story, as he does others, neatly." – Sunday Times, The (Singapore), Janandas Devan
"In a great book 'The Strategist', the author, Robert Dodge, writes on Tom Schelling and his contributions and recognition." – Capital Ideas Online: Applying Knowledge to Knowledge, Chetan Parikh
"This book is fun, fun, fun." – Marginal Revolution, Tyler Cowen
In his new biography of Schelling, Robert Dodge does an admirable job of describing accurately and clearly Schelling's contribution to Cold War diplomacy — both as an academic and as a policy analyst and adviser. Likewise, he concisely explains Schelling's contributions to other topics once thought beyond the purview of economists, such as racial segregation and self-command, the latter of which, like much of Schelling's work, had a connection to his own real- world experience.
Dodge, a former student of Schelling's at Harvard's Kennedy School of Government, has divided the book into 27 relatively short and highly readable chapters." – The Not-So-Dismal Science, Aaron Steelman
Soon after returning from my sabbatical I began an activity in Singapore that would become very important to me. I have a condition that is stigmatized, but I was eager to become involved when introduced to those who suffer much more, Singapore's victims of leprosy. I began bringing students to visit them weekly, when their families had abandoned them and no others were interacting with them. I continued the visits for the next 23 years until moving.
My health turned worse and I underwent four brain surgeries for epilepsy at Johns Hopkins, and had one lobe of my brain removed. It was uplifting to receive "get well" letters from the leprosy victims in Singapore. Eventually I stopped working on disability and turned to writing as my fulltime activity.
Soon came a book I had been working on since attending Harvard's Kennedy School, Schelling's Game Theory, where Nobel Laureate Thomas Schelling wrote the forward.
Reviews and Comments:
The New York Journal of Book, "This book is a must read for political scientists, economists, and anyone who has to make decisions of import."
Journal of Economic Literature, "Dodge is clearly a practiced presenter of Schelling's work, and of game theory more generally. His explanations are accessible enough for novices but meaty enough for all but the most advanced readers. Overall, Dodge's book provides a solid introduction to game theory, more than expected about the field's history, and a nice overview of Schelling's work. In this effort, Dodge is a faithful steward of Schelling's course, but not without the trimming, shaping, and supplementing only an outsider could provide. The result is a game theory book unlike any other."
CHOICE, "[Dodge] discusses in a very lucid fashion some of the most important tools in game theory. Despite game theory's being a highly mathematical field, Dodge abstains from abstract technical details and has produced a cogent, thoroughly enjoyable text, as Schelling himself would have done."
"Few authors enable the reader to understand and appreciate game theory and have fun at the same time. Tom Schelling is one of them; Robert Dodge is another." –Albert Carnesale, University of California, Los Angeles
"Exactly forty years ago, I was privileged as an undergraduate to take Tom Schelling's now famous course, Conflict, Coalition, and Strategy. It was a stunning — even life-changing — experience. Now Robert Dodge has assembled the animating ideas of this course for everyone to enjoy, learn from, and use. I wish it had been available as a study guide when my compatriots and I were wrestling with these concepts the first time!" –Herman B. "Dutch" Leonard, Harvard University
Robert Dodge has created a work that articulates the genius of Tom Schelling's insights for decision making that is accessible to experienced and aspiring decision makers alike. Having spent my own career negotiating international trade agreements and commercial deals, or trying to achieve consensus among governmental agencies, legislators, faculty or not-for-profit board members, I am consistently reminded of how many of the lessons still apply." — Ambassador Susan C. Schwab, Former United States Trade Representative
Comments for the book cover were also offered by Nobel Prize winners Robert Solow and Robert Aumann, game theorist Robert Axelrod, and noted authors Malcolm Gladwell and Steven Levitt.
We returned to the U.S. in June of 2014 and our daughter also moved from Singapore to Qatar. Since living in Denver I wrote a book on racial intermarriage and same-sex marriage that was a finalist for the Colorado Author League's nonfiction book of the year:
After 35 years of overseas life and working with international students and faculty the return to the U.S. has been an adjustment. It came at a time when immigration and refugees were becoming divisive political topics. My wife and I volunteered helping with beginning language instruction at a center for newcomers to America and it became apparent how diverse the Denver metropolitan area is.
Though many people seemed to be focused on the Denver Broncos and the Rockies, the baseball team in summer and skiing in winter, there is a very large community among them that is concerned more with survival, and going largely unnoticed. I have visited and spent time in the areas from which they fled and am familiar with their situations. I had students and knew families from their countries. A book on Denver's refugees and the refugee situation in America seemed like a natural subject for me to adopt for a book. It is my purpose to help elevate the conversation about refugees, by letting the stories be known of what conditions they experienced and why they fled. WildBlue Press has provided me with that opportunity.
Travels
I am including a photo gallery of some of our travels on six continents from over the years as it indicates my motivation for taking on this project.
Future Plans
I have begun my next project which will be a memoir of life with epilepsy and the stigma associated with it. My plan is to expand it to include my experience with those who have been stigmatized most severely of all, the victims of leprosy. It is based to a degree on expanding an article I previously wrote for a journal on disability that was republished in the following: https://issuu.com/sasnf/docs/journeys_v8_06_2010/28