Winner of 7 Literary Awards!
"THE CRATE is an important and impressive piece of work. I'm glad it was written, and I'm glad I read it."
-- Lee Child, #1 New York Times bestselling author of the Jack Reacher Series
After surviving the horrors of the Holocaust – in ghettos, on death marches, and in concentration camps – a young couple seeks refuge in North America. They settle into a new life, certain that the terrors of their past are behind them. They build themselves a cozy little cottage on a lake in Muskoka, Ontario Canada that becomes emblematic of their victory over the Nazis. The charming retreat is a safe haven, a refuge from haunted memories.
That is, until a single act of unspeakable violence defiles their sanctuary. Poking around the dark crawl space beneath their cottage, they discover a wooden crate, nailed tightly shut and almost hidden from view. Nothing could have prepared them for the horror of the crate's contents – or how the peace and tranquility of their lives would be shattered.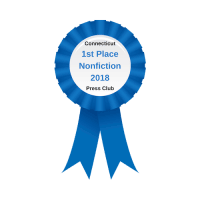 Now, their daughter, Debbie Levison, an award-winning journalist, tells the extraordinary account of her parents' ordeals, both in one of the darkest times in world history and their present-day lives. Written in searing, lyrical prose, THE CRATE: A Story Of War, A Murder, And Justice examines man's seemingly limitless capacity for evil... but also, his capacity for good.
From The Book:
After breakfast, I decided to head for the beach. I grabbed my book and a towel. On the way out of the cottage I deliberated. I could go out the door we'd come in, beside Peter's office, facing the pizza oven. Or, I could use the front sliders off either of the two new bedrooms downstairs. But I chose a different door, one that led out to the lower deck beside the old storage shed and up to the septic bed. I forced myself to walk slowly and pause at the edge of the deck. Instead of hurrying on down to the shore, I made myself turn and gaze into the shadows, an unpleasant spot where spider webs dangled from rafters and from which wafted a dank, earthy smell. For there, in the dark angled space under the cottage, that's where I assumed the crate had been discovered.
I bent down and peered in further. In front of me stood the lawnmower, and beside it, a pile of kindling and my old yellow hatchet. Lengths of old lumber and odd shapes bulging under tarps filled the gloom. Petrified spiders clung to the foundation blocks near my cheek. Goose bumps rose on my arms and I felt completely, utterly creeped out. I yelped and jumped a foot into the air when my brother stepped up behind me. I had been so lost in thought I hadn't heard him coming.
"Sorry, Deb, I didn't mean to startle you," Peter smiled. "I have to cut the grass."
"Jesus." I clutched the railing and willed my breathing to slow. "It's okay. I just wondered… is this where…?"
"Yes." He pointed into the shadows. "Way back there."
Nearly concealed in the dark, Peter had noticed the unfamiliar crate hulking amidst the debris. Apparently my brother had tried to lug it out but it was wedged in tight, too heavy for him to manage alone. Even though I hadn't mentioned it to my family, I knew that Peter had had help: he and our caretaker had maneuvered it out together. Later, the man panicked at the smell. "Where did the police…um…deal with it?"
He gestured to a spot in the grass on the septic bed near the stairs, right where I used to hula-hoop. "And?" I pressed. "Tell me."
Peter squinted at me for a moment, as if wondering if he should give himself permission to proceed. Finally he started to speak, lowering his voice so that I had to lean forward to hear...
Praise For THE CRATE:
"Escaping the horrors of the Holocaust, Levison's parents nestle into a quiet cottage in Muskoka. But trauma ripples into their new life when they discover a crate hidden beneath their sanctuary.
Seamless prose, profound emotional texture, and a very human voice help chronicle this unforgettable story. THE CRATE is true crime at its best."
-- K.J. Howe, bestselling author of THE FREEDOM BROKER and SKYJACK, and Executive Director of ThrillerFest
"Some stories are like a gut-punch, hitting you broadside with such harrowing moments that you have to put the book down and take a breath. Deborah Vada Levison's story THE CRATE is such a tale. Throughout this book, you'll find anecdotes both horrifying and uplifting, leading readers to a final resolution that feels earned, rewarding, and ultimately with a poignant sense of hope—for who we are and who we might be. Treat yourself to this journey and be transformed."
—James Rollins, #1 New York Times bestselling author of Crucible
"Levison captured the accuracy of this real life horror. She and her family were thrust into a police investigation by the very person they trusted with their summer home. The angle of this story is one not often told.
Bone-chilling facts weaved through a story of survival in THE CRATE."
--Detective Dave Allen, Lead Investigator (Retired)
"THE CRATE combines the horror of one murder with the terror of historical mass murder. A family retreat in the dark woods north of Toronto, once a haven for a young girl, is soiled by a heinous act of violence. Behind the scenes, survivors of the Holocaust, who outlasted the Nazis, the Russian communists, and even their own neighbors, try to raise the next generation free from the atrocities they witnessed.
THE CRATE is a vital and necessary book that should be read as much for its historical content as for its entertainment value.
Once you begin reading, this book is hard to put down. Once you are finished, it is impossible to forget."
--Ron Winter, Pulitzer-nominated author of Masters of the Art, Granny Snatching, and The Hypocrite
"Levison opens wide the door to her world full of memories. That is where we read of Hungarian survivors of the Shoah, of escape from oppressive regimes, of brutality and murder, but also of bravery, love and beauty. Two main true stories, with a time gap of some fifty years in between, converge as they happen to the same family. With the writing shifting between documentary and memoir, it becomes hard for the reader to put down this book.
THE CRATE has one problem: sadly, it has to finish. But you can always go back and start rereading it."
-- Immanuel Mifsud, Ph.D., recipient of the European Union Prize for Literature
"Author Deborah Levison has played a critical role in touching the hearts and minds of my Holocaust classes through retelling the Holocaust stories of her family. The students were spellbound by her book, 'THE CRATE: A Story of War, a Murder, and Justice.' They were literally riveted to their seats and were deeply moved by these stories. Levison is a truly gifted author with a very important message to communicate through her writings. At a time when the last survivors of the Holocaust are passing away, Levison has preserved through her writings important stories for future generations to read."
-- Al Treidel, Director of Education, Congregation Beth El, Norwalk, CT
"Debbie Levison's The Crate is the kind of book that makes us want to read. It deserves to become a best seller."
--Chuck Miceli, author, poet, playwright
"In case you need an advanced review, I offer the following, more detailed, description of the book.
In The Crate, Debbie Levison takes us layer by layer, into the core mystery of her story. From the creation and history of her family's deep-woods cottage where the box was found, to the lives of people who built and seasonally inhabited the place, to the tragic history of the person whose corpse was found inside the crate, she carefully knits the interrelationships of all of these elements. Each time she looks backward, into what in the hands of a lesser writer might devolve into the mundane, she instead draws us further into the story. She does this by connecting each detail of her nostalgic memories of the family's summer getaways to the violation wrought by the murder that invaded their private sanctuary. Levison manages to slip between the past and present with ease and never loses us in the process. Then she looks even further back in her family history to connect the unsettling impact of the modern-day murder to the unspeakable horrors of the Holocaust that her parents just barely survived and most of her ancestors did not. Her description of the Nazi atrocities is uncomfortable and often painful to read. As the story progresses, Levison digs deeper into her own emotions as well and brings them raw to the surface to share with us. In the end, The Crate is as informative as an investigative news report yet as intimate as a personal diary. It is also as compelling as a first-rate novel. In fact, at the same time that I read The Crate, I was also reading a novel by a NY Times bestselling author. Debbie Levison's book won hands down. Hers is the kind of book that makes us want to read and it deserves to become a best seller."
--Chuck Miceli, author, poet, playwright
"The Crate- albeit combined with fond and poignant memories of the Vadas family- is a true crime story with disturbing details. It's a tough topic to contemplate and a grim reminder of the worst of humanity."--Readers' Favorite 5-Star Review
"Inspirational and heart wrenching at the same time."--Two Girls And A Book Obsession