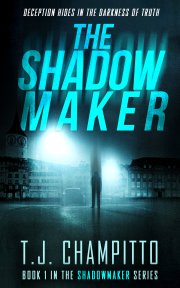 I couldn't be more excited about the upcoming release of my latest novel, The Shadowmaker. Following my 2020 debut, The Medina Device, I set out to write an action-packed thriller that focuses on the mind of a criminal and the moral, soul-searching battle between good and evil. I wanted my main character to exude the confidence of a superhero, but also display the weaknesses and imperfections that make us all human.
The Shadowmaker, Book One in The Shadowmaker Series, follows world-renowned art thief, Henry Sirola, who's been given a new assignment by the Croatian mob—to retrieve a priceless artifact that had previously been lost to history. But Henry has a secret; he's also an FBI informant.
As he tries to keep one world from collapsing onto another, Henry and his associates—including his former girlfriend, Isabell—are tasked with securing the artifact from Brazil, where it's been stolen by a rival organization. But upon their return, a deadly assassin strikes at the heart of their crew and Henry must now hunt down a cold-blooded killer after a series of clues leads him to a mysterious farmhouse in the foothills of the Appalachian Mountains, and a laptop that just might hold the answers to his troubled past.
Meanwhile, an FBI agent seeks information from the man known only as "The Shadowmaker", but Henry fights to keep his identity hidden when he's summoned to Europe to finish his mission and find a buyer for the mob's priceless new treasure. His quest for truth takes him from the cathedrals of Italy to the back alleys of Zürich, where he's forced to choose between the safety of the FBI and a life of boundless wealth.
An explosive international thriller, The Shadowmaker hurtles through the dark underworld of organized crime and into a pursuit of self-discovery as the battle between good and evil turns personal.
This novel has been such an adventure for me to write. It features brilliantly vivid locations, moments of pure adrenaline and suspense, and most importantly, a set of characters that are gritty, intelligent and flawed to perfection, and I can't wait for you to meet them.
Published by WildBlue Press, stay tuned for upcoming tour dates, signings and author events.