In 1996, a sheep called Dolly was born. She was the first mammal in history to be cloned from an adult. For this reason, Dolly had three mothers: the one who provided the egg, the one who carried her to term, and the one who provided the DNA. It was a remarkable leap from science fiction to science fact.
There's a tendency to think of Dolly as a duplicate, a carbon copy, of the sheep whose DNA was injected into the egg; as though Dolly lived two lives, one after the other. But of course, there is more to it than that. Dolly's DNA was just one part of the story of her life. The egg itself (and the womb of the surrogate mother) had all sorts of causal impacts on Dolly's physiology.
So, even physically, Dolly was no carbon copy of another sheep. And she was raised in a totally different environment, which undoubtedly made for a sheep with its own, quite individual, personality. Dolly was as much the result of nurture as she was of nature.
Up until Dolly, the idea of cloning large animals had been restricted to the world of science fiction. Steven Spielberg did it best with his film adaptation of Michael Crichton's Jurassic Park. This cautionary tale of dinosaur cloning was released just three years before the astonishing birth of Dolly. Lucky for us, she never unleashed anything like the havoc of Spielberg's velociraptors.
Two decades before Michael Crichton gave us his tale of terrifying lizards, another science fiction classic came to a more ambivalent conclusion about the risks of cloning. The Boys from Brazil, written by Ira Levin in 1976, presented the world with the horrifying specter of a long-term Nazi cloning program, with an aim to bring forth a new Hitler from samples of the dictator's DNA. In Levin's novel, the architect of this evil scheme is the war criminal Dr. Josef Mengele, working alongside other Nazis who had fled to South America. But the conclusion of Boys from Brazil, unlike Jurassic Park, is tentative and cautious. Levin reminds us that Mengele's sinister clones are not just little carbon copies of Hitler; they are individuals. Adolf Hitler, however cruel and despicable, was as much the result of nurture as of nature.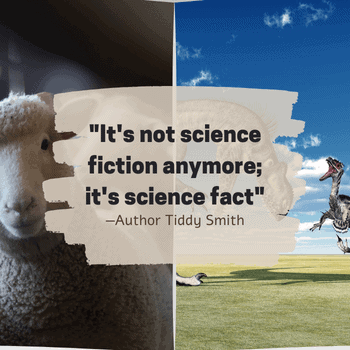 Nowadays, you won't find too many science fiction tales about cloning. And the reason for this is obvious – It's not science fiction anymore; it's science fact. And the truth wasn't half as exciting as we thought. We didn't get velociraptors or baby Hitlers. We got, after all the hype, a little baby lamb.
Dolly died 20 years ago this month at the age of six.