SL Ditmars writes another fast-paced, page-turning police procedural... I love the characters and the dogs, Ares and Addy, who make the story even richer... I very much and highly recommend this book. —K.L. Peacock, author of THE CROSSINGS series and Public Safety Writers Association Member
About The Book
JW North and his "big dog" Ares are back.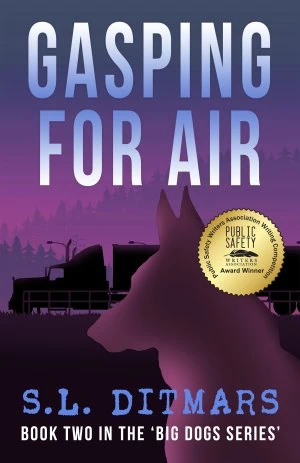 This time North is a U.S. Marshall and member of the Serial Criminal Task Force. North, Ares, and partner, Ben Kellum, trail the Truck Stop Killer who has created a swath of murdered prostitutes across the United States.
The trail leads to a bolted gate in front of an old trailer 20 miles north of Prescott, Arizona. They cut the lock; the gate swings open with a loud groan, warning the killer inside. Will they be on time to save the serial killer's latest victim and stop him from more depredations?
Award-winning author S.L. Ditmars follows up on his canine-inspired BIG DOGS: Book One In The 'Big Dogs Series,' with this action-packed thriller GASPING FOR AIR: Book Two In "The 'Big Dog Series.'
About The Author
S.L. Ditmars is the award-winning author of the Big Dogs series. He is a retired police officer from Long Beach, California and has held positions in patrol, police K9, information technology, homeland security, counterterrorism, and police communications. He currently resides in Prescott, Arizona with his wife, Barbi, and their two German Shepherd rescues, Gunnar and Missy.