A former police sergeant, Marla Bernard is a passionate victim's rights advocate, author, and public speaker.
She received her Master of Arts with honors from Baker University. She serves as adjunct faculty for a national university where she has written several criminal justice courses and has been a contributor to national law enforcement publications.
She and her husband were recently filmed for an upcoming true crime series in the United Kingdom for an episode based on her first book, Through the Rain.
Her work has been published in two volumes of Chicken Soup for the Soul. She is currently writing her third book, a collection of short stories about individuals whose positive influences made a significant impact on her life.
Marla and her husband retired Sgt. David Bernard, reside in the Midwest near the loves of their lives – their two children and three grandchildren.
Out Now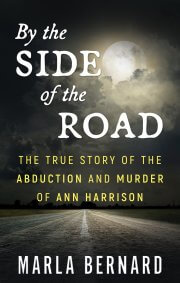 As two violent felons drove around on a crime spree, Ann Harrison walked out her front door to wait for the school bus. Ten minutes later, Ann disappeared.
By the Side of the Road is the true story of the kidnapping and murder of a 15-year-old girl and the family that waited 26 years to see her killers brought to justice in Missouri's death chamber.