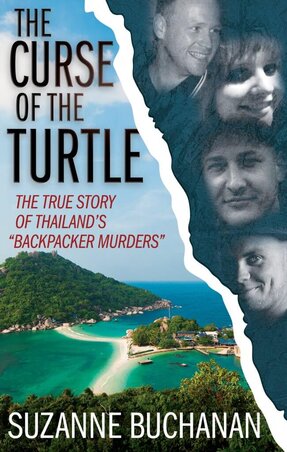 Koh Tao--a small island in the Gulf of Thailand, surrounded by pristine beaches, swathed in sunshine, and a mecca for tourists, divers and backpackers. But "Turtle Island" has its dark side. In 2014, Koh Tao was the site of the brutal double murders of two British backpackers, but theirs weren't the only suspicious backpacker deaths.
My name is Suzanne Buchanan. I am the former owner and editor of the Samui Times, a news publication on Koh Samui, and covered the stories of the so-called "backpacker murders" and other suspicious deaths. Although I am a British citizen, because of my investigation and stories, as well as my support for the two Burmese migrant workers sentenced to death for the murders, I had to flee Thailand for my own safety. There is currently an active warrant for my arrest should I return to Thailand, which had been my home for more than twenty years, and I continue to receive death threats.
In "THE CURSE OF THE TURTLE" readers can make up their own minds on who is responsible for the murders that so devastated the victims' families. Were the Burmese migrant workers responsible? Or were the powerful, tribal families who run Koh Tao involved? And if so, were they aided by corrupt law enforcement?
"I am the father of Chrissie Annesley who was murdered on Koh Tao Island in January 2015. I am so pleased that Suzanne is writing this book to expose the lies and corruption that have gone unpunished for so long and to hopefully get some sort of justice for our children and ourselves." -- Boyne Annesley
"I got together a group of parents who have all lost a child in Thailand, particularly Koh Tao, after my son Ben was killed August 2012. I was contacted by various people one of whom was Suzanne, she gave me support throughout the early stages and has continued for the last 9 years. She wants justice for all of us who had a child murdered on Kao Toh." --Pat Harrington
"Suzanne Buchanan wrote an amazing book about my son, Luke Miller, and the others who have died on Koh Tao. She has put her life on the line to write this powerful story." -- Sara Cotton
For photos from the book, visit THE CURSE OF THE TURTLE Photo Gallery.
From The Book:
By the end of February, 2016, my relationship with my partner was starting to suffer and so was my health. I was living and breathing the case with my team and it was mentally exhausting. As I was getting ready to give up, I was contacted by Tom Stone who was directing at Channel Four documentary. He wondered if I would like to take part. I declined his offer. It was far too dangerous for me to be involved. More and more people were telling me I should leave the island for my own safety. I had been publishing information about Ian Yarwood's plans to discredit the DNA. However, I did agree to meet with him and his team to tell them all I knew.
I was starting to feel really unsafe on the island. My partner moved out for a while to catch his breath. Being home alone was daunting. I was told the mafia had a list of people they were planning on dealing with, and my name was getting closer to the top. I was having trouble sleeping at this point, partly out of fear for my life but mainly out of fear for the B2 and the hell they were now living in on death row. One night when I woke up to use the bathroom and took my gun with me it dawned on me that the life I was now living was anything but healthy. I thought I would be better off trying to help the B2 from the safety of the UK. There was so much I wanted to tell the world about what had really happened over the last couple of years and I knew there would be no way I could do that from Thailand. Away from Thailand I would be free to tell the truth and not have to worry about going to jail or being bumped off. I was looking into rumors that five mafia families had funded the political protests in Bangkok that brought down the government and put the Junta in charge in a military coup, and that the Toovichien family was one of the main contributors. If this was true I was in serious trouble. On the other hand leaving Thailand could also be tricky. Nobody involved wanted me to have freedom of speech, so there was a possibility they could make it very hard for me to leave. I decided if I was going to go it would have to be done very quietly. I knew I could not leave without telling the B2 so this meant a trip to Bangkok. My partner agreed to leave Thailand with me. At the time, I thought we had a future together. In retrospect, I think he was scared for me and possibly for himself. I think he could see how tired and exhausted I was. I was sick of Andy and sick of the lack of justice and sick of pissing into the wind. I needed a change so we planned our escape. However, we didn't manage to get out before yet another suspicious death related to Koh Tao came to light.
*Comments for this page have been turned off.